Cruisin' America – RV Getaway with Cats(?), Monterey, Pacific Grove, Carmel, Doris Day, CA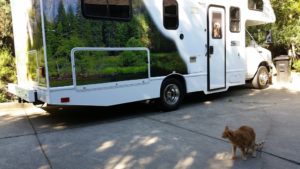 Poor Ornji Cat isn't so sure of that big thing taking up her driveway space. She's had about enough until…
This is our 'small' Size C RV about to take off for a short 300 mile day long trip to Monterey with cats(?)
Time to load up Ornji with brother Zack (Ornji hiding in back cage)
Ornji making himself at home, now, getting used to it, Problem is the RV hasn't started up yet
Same goes for Zack. OK so far, he says, but…
And, the howling begins…BEFORE Crusin America's engines even start
Poor Zack so nervous he's already using the bathroom – at least he's doing that. Well, maybe
this will just be a test run – or sit – for now- and cats will try again another time…
Off we ,er , I go for trip to Monterey via See Grins to check out some more RVs at World's biggest
indoor RV showroom…below…3 buildings taking up a near block…and HERE WE ARE!
Here we are in the outdoor lot at See Grins, Gilroy, CA
Some mighty big RVs…
classic 'retro' camper still made… a mere $30,000 for this lightweight, small camper…,my style!
Monterey wharf on a cool, overcast day
…and onto Carmel where we're sharing our breadbowl with locals…
Carmel-by-the-sea at food of Ocean Ave.
Most dog-friendly town ever, thanks to local legend Doris Day and all her animal welfare programs.
Here's Doris' famous Cypress Inn where one can still stay a night and nine in spendor… and here
some great live music. This only days following Day's birthday celebration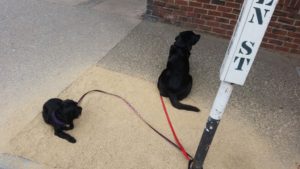 And, off to nearby, bucolic, neighborly Pacific Grove for 'Good Old Days' celebration
'Good Old Days' though not really a lot having to do with nostalgia here
And, winding our way back home to the Eastbay via our favorite Casa De Fruta…
Note the Wild Peacock (her friend is hiding just out of the picture)